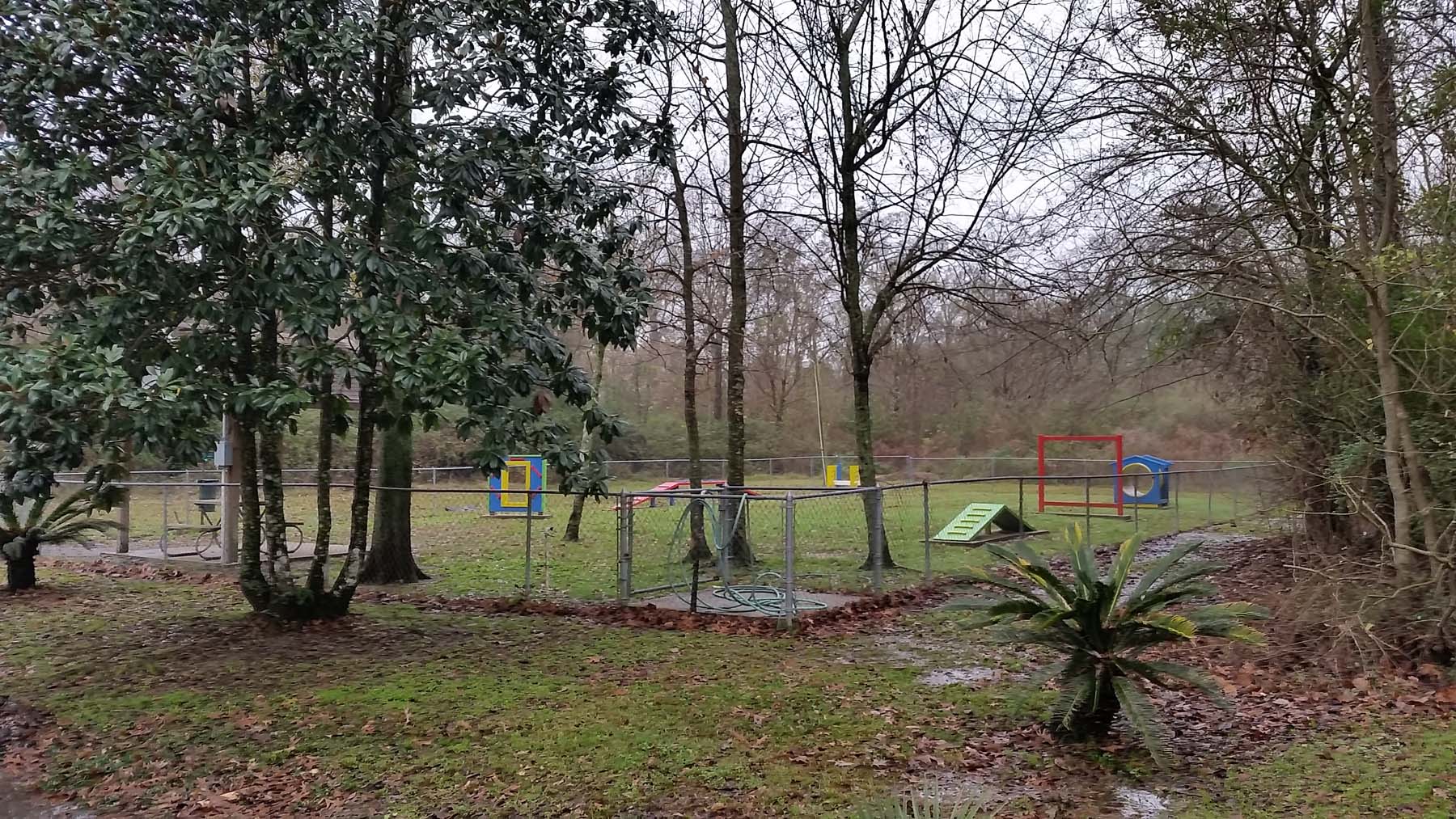 This is one of the largest and most beautiful of the KOA's we have stayed in across the USA. It has true Southern Charm of plantation country with the enormous hardwood trees, some draped with Spanish moss. Denham Springs/Baton Rouge, Louisiana KOA is just seven miles east of the center of the Baton Rouge, the state capital, and located at Denham Springs just off I-12 . The sites are a combination of gravel and grass, and we found out on the two rainy days we were there that the gravel serves well in rain as it drains more quickly than grass. The white picket fences around the big swimming pool and hot tub and the pretty yard furniture at some of the pads and lovely flowering shrubs make this a lovely KOA. The hosts show true Southern hospitality welcoming and accommodating, leading us to our pad and making sure we found the hook-ups easily.
The most unusual and very large K9 Pet Park has a lot of playground equipment which tempt people too, but it is not designed for people. It certainly will
thrill your pets! You can watch your pets play from comfortable seating beneath trees in this big, fenced, grassy area. The longer term sites are near this pet playground at the back of the RV Kamp.
The laundry is clean and the recreation room and pavilion are large. There is also a wonderful game room with more equipment than most KOA's. The activity center and large covered picnic areas are available for the use of guests and great places for family or group activities. You'll find several types of attractive cabins for use of those who want the camping experience without owning a tent or camper. The two Kamping Lodges are lovely. The playground equipment is new and safe and close to the office, but I laughed to see how much smaller the area is than the pet park. A mini golf course is available for family fun, and the convenience of on-site propane is a great help not always available in other parks.
We highly recommend this KOA for the many wonderful museums, art galleries, sports events of LSU, and casino and boats along the Mississippi River nearby, and it is less than an hour from New Orleans. This is your ideal location year-round for camping fun. (Phone: 1 225 664 7281 Address: 7628 Vincent Road, Denham Springs, LA 70726)
About the author:
Bonnie Neely, a professional journalist for over 30 years, has worked extensively in educational television in which she has been project coordinator, researcher, and scriptwriter. She has also been a columnist for various newspapers and magazines as well as a producer/scriptwriter for the Discovery Channel. Furthermore Bonnie is one of the "Top Book Reviewers" for Amazon.com. She founded Real Travel Adventures and built it into a leading travel blog.